May 16, 2022
Is Honesty Really the Best Policy?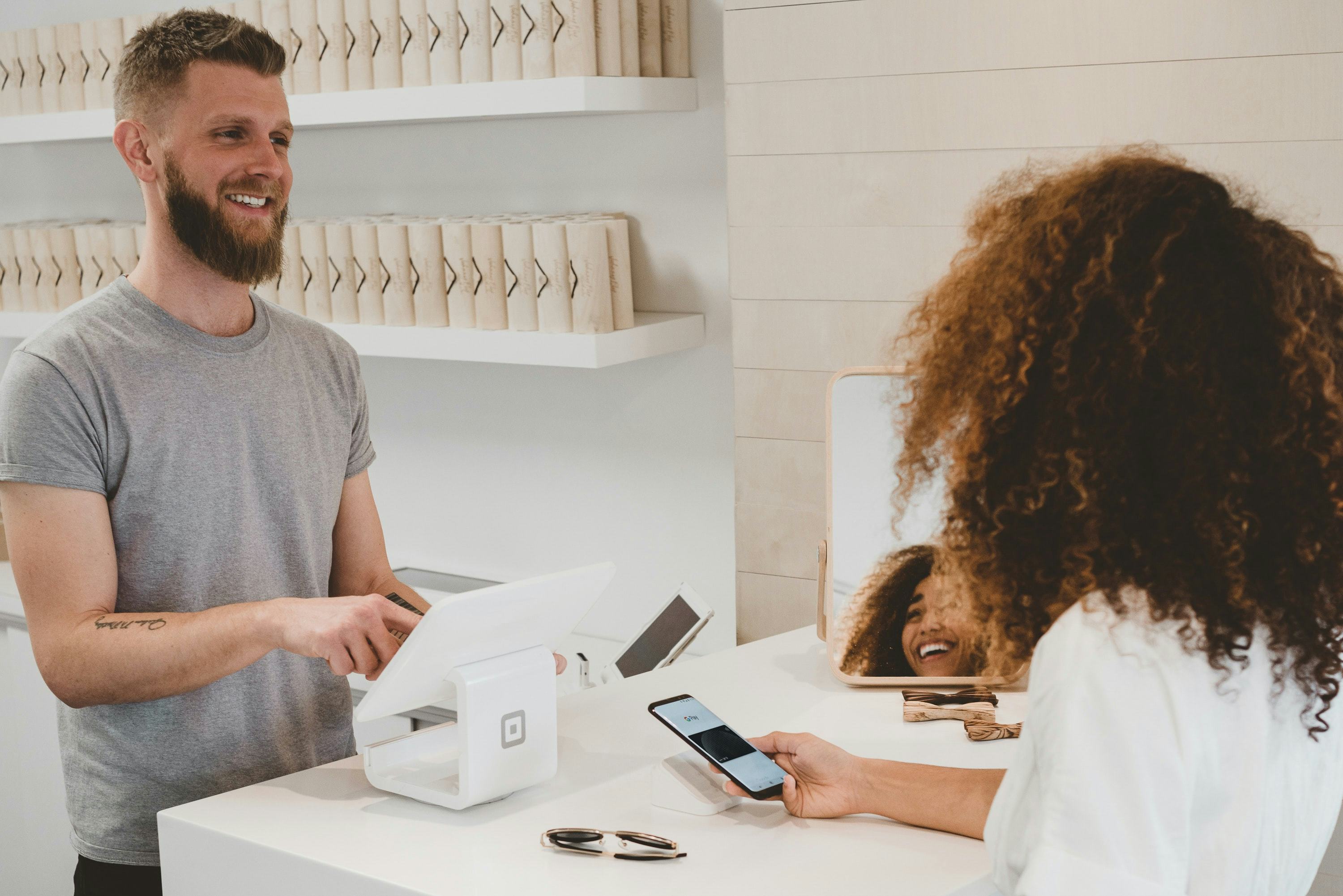 What is Transparency?
Brand transparency is essentially defined as how a brand shows itself to be open, clear, and honest to internal and external stakeholders. The main principle revolves around being honest and transparent to the general public, however, this could vary depending on the brand and industry. This is one of the most powerful ways to gain the trust and loyalty of a target market. Brand transparency mostly refers to a brand's active attempts at honesty. These guiding principles give a sense of what consumers are looking for, and they make it clear that there's more than one way to demonstrate transparency as a business.
When we compare it to the past, it was completely natural and acceptable for companies not to disclose everything to their communities, be it how products are sourced and manufactured or what impacts they might have on the environment and society. Today, secrecy is no longer tolerated and customers are in control of the relationships with brands. In the age of social media, the world has become more connected than ever. Consumers increasingly expect companies to be more human, more engaged, and more vocal about social issues than ever before. As a matter of fact, 64% of consumers around the world would buy from a brand or boycott it solely because of its position on a social or political issue. (Edelman, 2019) In order to win the trust of your customers and build an authentic relationship with them, they need complete access to every stage of your brand and product journey.
"Over 90% of consumers say transparency by a brand is important to their purchase decisions." – Forbes
In a study by "the Transparency Imperative" by Label Insight, 93% of consumers said it's important for brands and manufacturers to provide detailed information about what is in food and how it's made. However, there has been a dramatic increase — from 39% in 2016 compared to 74% in 2018 — in the number of shoppers who say they would switch from the brand they usually buy to another brand that provides more in-depth product information, beyond what is on the physical label.
Nuances of transparency
When a brand is transparent, it reveals information about its goals, values, financial statements, and even data that could be considered sensitive, like business impact on the environment. We should also take into account that brand transparency is not always the opposite of brand dishonesty. Communicating with customers, not hiding from mistakes, and avoiding half-truths and sneaky practices are all different ways to be transparent. As you can see the range of factors that make up brand transparency are quite wide. As a consequence, the effects of having or lacking transparency are just as expansive.
For example, being honest about cost and pricing practices does wonders in establishing trust with consumers and helps you retain more customers when pricing changes occur. New research in the INFORMS journal Marketing Science provides evidence that cost transparency can increase consumers' purchase interest by more than 20%. The study, "Lifting the Veil: The Benefits of Cost Transparency" conducted by Bhavya Mohan of the University of San Francisco and Ryan Buell and Leslie John of Harvard Business School, found that doing so increases purchase interest even when prices are unexpectedly low or high.
Consumer Trust
While effective marketing materials and promotions are still important in the retail world, you can no longer slap a fancy label on a product and expect it to start flying off the shelves. Today's customers have more choices than ever before and they need to be provided with useful insights if they are going to choose your product over your competitors.
A Label Insight study in 2016 on the link between transparency and trust found that more than half of consumers consider "additional information" to be important when they're choosing a brand. On top of that, 73% of those people would spend more on a product that offers complete transparency. In another study conducted by Accenture in 2018, 66% of consumers said what attracts them to certain brands over others is that the company is transparent – especially with where it sources its materials and how it treats employees fairly, etc.
If your clients are lacking data on how you sourced your products, what you're doing in terms of corporate responsibility, and what your vision of the future looks like, then they will be less inclined to trust you. Due to the abundance of choices, they will simply switch to a brand that provides them with the transparency that they so eagerly desire and frankly said, deserve.
In a 2019 Edelman Trust Barometer, with the title "In brands we trust?" 33,000+ respondents worldwide answered questions about their purchasing behavior. As a matter of fact, the percentage of consumers that felt this way was similar across different global markets, different ages, and also across different income groups.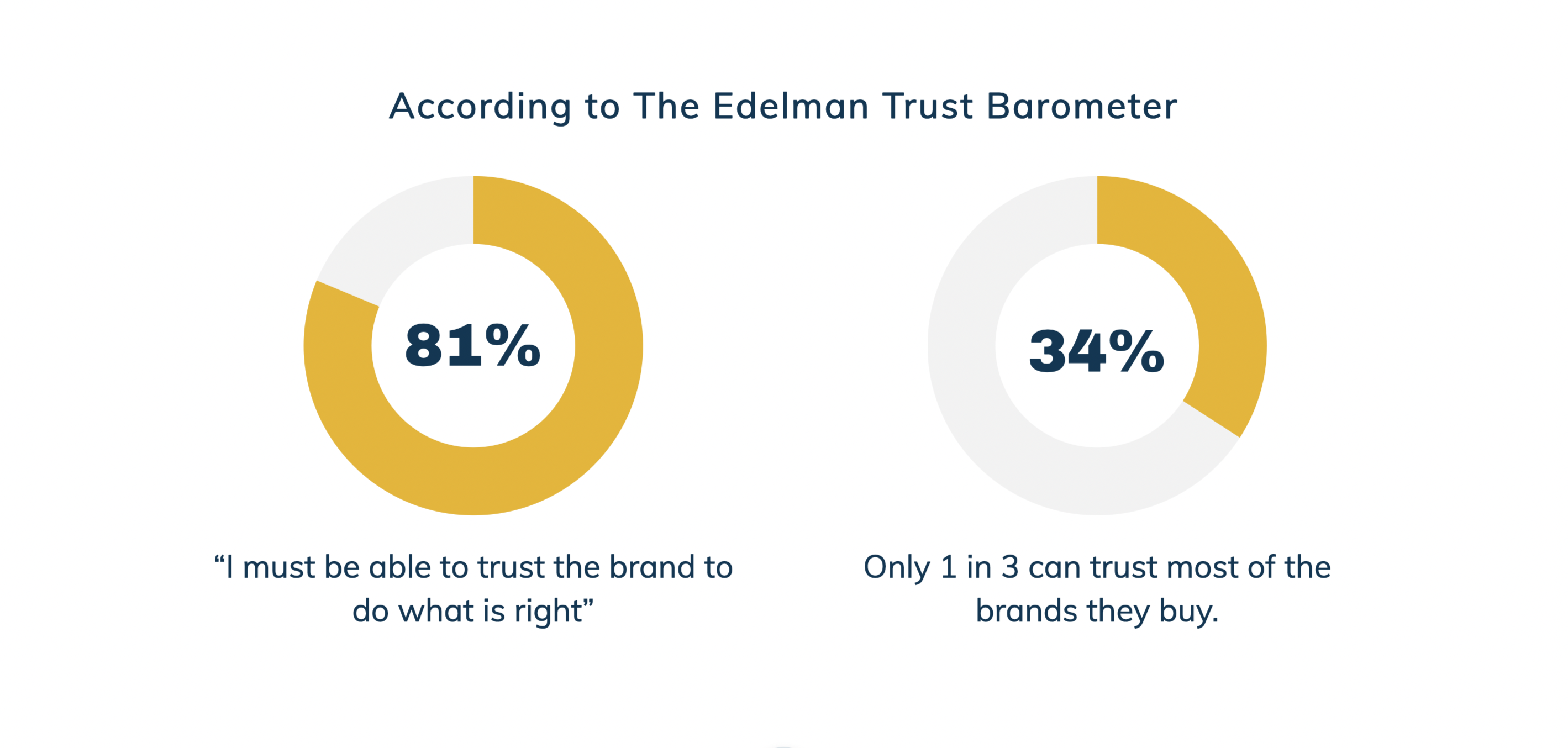 At the end of the day, customers have the final vote on which businesses succeed, and which ones fail. That's because customers control the relationship, and their purchasing power is their voice. If they are going to spend money and remain loyal to your brand, they need to know that they can trust your brand.
Brand loyalty
When consumers buy from brands, they put their trust in them and it's safe to say that when brands build trust, consumers reward them. This can be in the form of building long lasting relationships with them, and sticking to the same brand through thick or thin. Consumers are no longer simply concerned about the product experience, but they also have growing interest about the customer experience that brands promise, and increasingly about a brand's impact on society.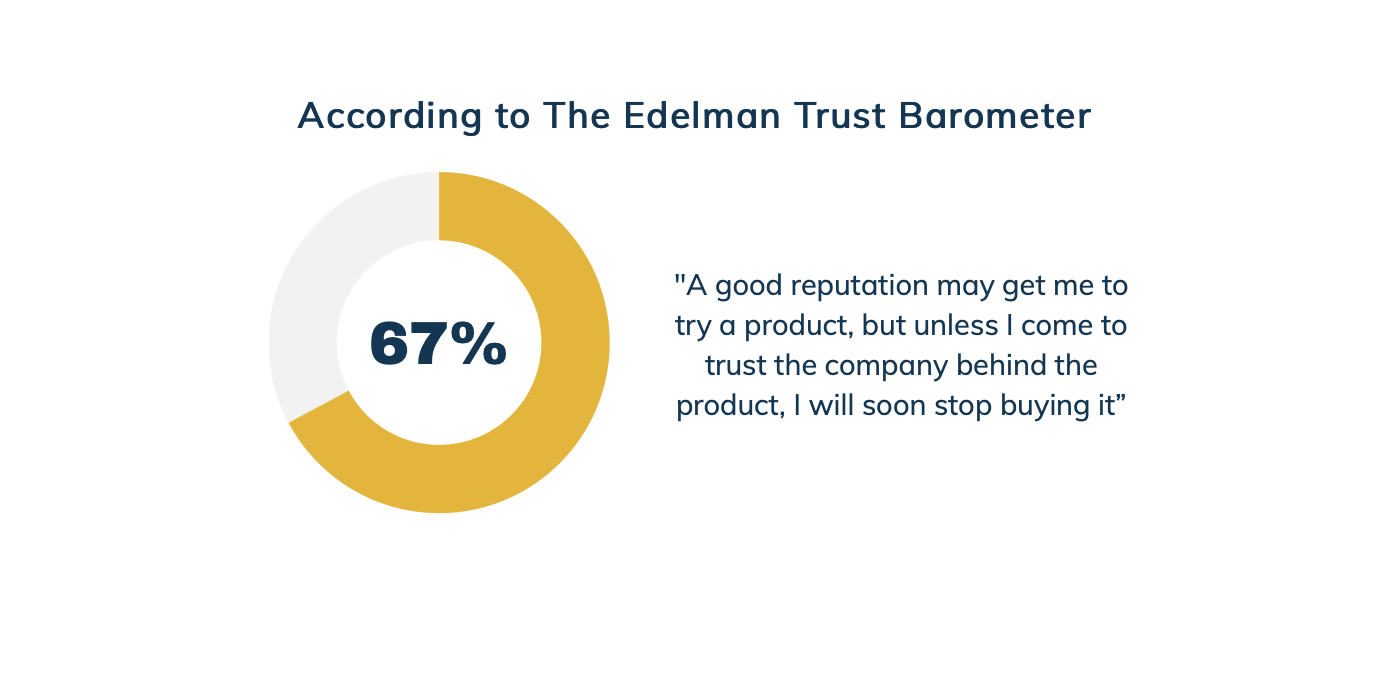 As we saw with consumer trust, the same logic applies here. If brands are honest and authentic with customers, it will help build a relationship based on trust. The graphic below shows that when brands earn full trust – product, customers, and society – consumers reward them in return with repurchasing, staying loyal, advocating for the brand, and even defending the brand in situations where they are being criticized.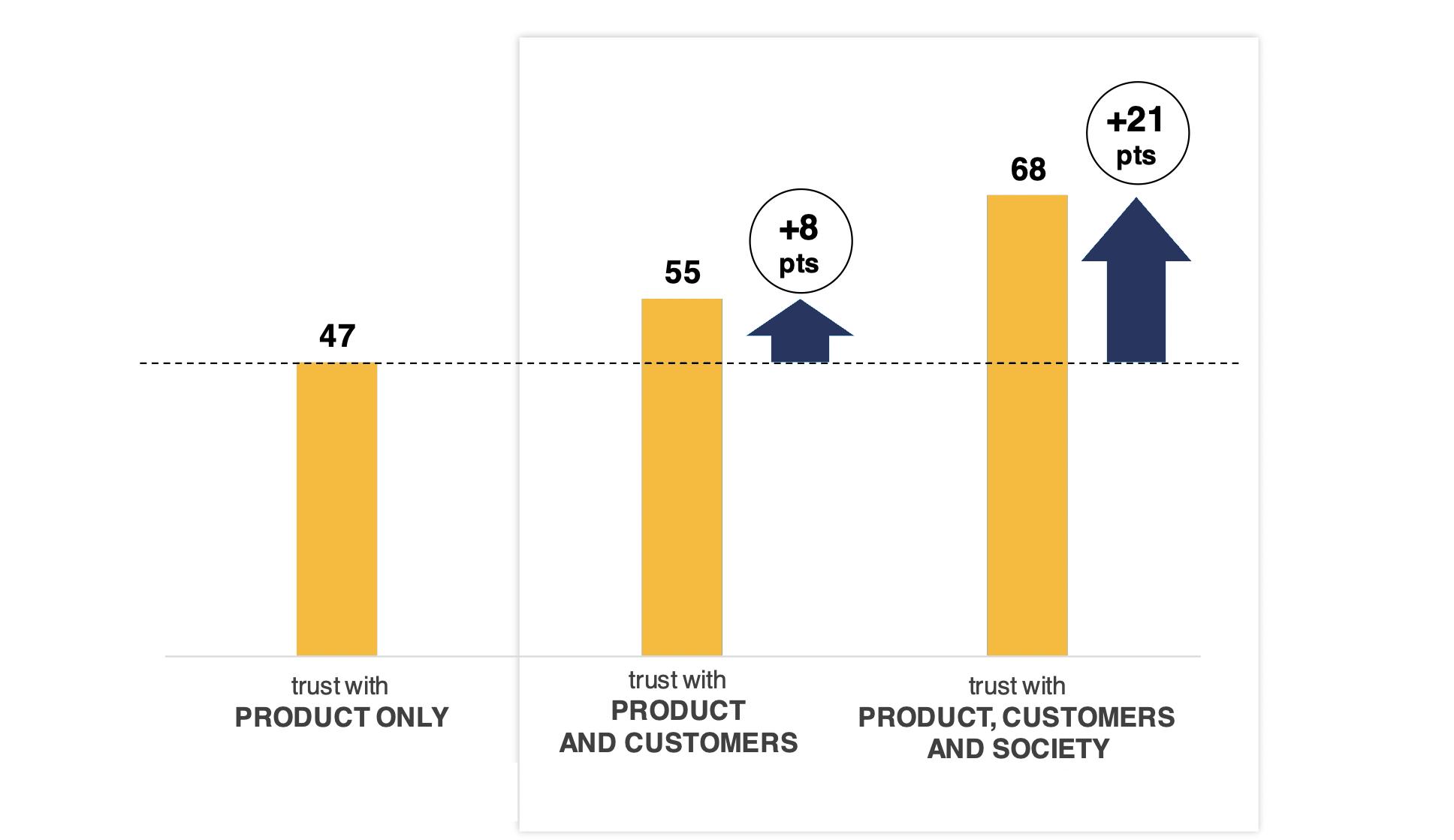 You can read our Customer Success blog series to get a better understanding of the different ways you can improve communications and increase your chance of engaging with your customers.
How technology can boost transparency
Now that we've established that bringing issues into the open which are usually left in the dark is essential for the bottom line of a business and the ideal solution for reducing stakeholder distrust, let's look into how technologies can bring you closer to this ideal state. Unfortunately, many organizations' efforts to increase transparency have been a reactionary strategy for managing organizational and individual reputations during public scandals. However, it is much more beneficial to take a more proactive approach and use technological advancements to make supply chain transparency to your USP.
The main advantage of using technologies in this aspect is that they offer proven impact claims which are much more reliable and comprehensible for consumers compared to the traditional "take your word for it" approach. For example, by implementing the seedtrace platform, our partners from Conflictfood were able to tell the whole story of their business and get a better understanding of their customers, as well as drive incremental sales. This was achieved by setting up product pages on the seedtrace platform and mapping their supply chains. The QR-code feature which is placed on the products, with an 11% scan rate provides a better understanding of customers, where and what they want to achieve, and what they want to learn more about.
"The concept of seedtrace is as simple as it is ingenious, it convinced us immediately: With one click, you can embark on a journey to the origins of our products. The simple and low-threshold application makes it easy for our customers to dive deeper and learn more about the everyday life of people in conflict regions."
Gernot Wurtenberger - Founder at Conflictfood
To conclude, honesty is not only the best policy, it's one of the best business strategies if your goal is to drive repeat purchases and convert first-time buyers. As you look for ways to increase customer loyalty in 2022, consider this simple-but-powerful step: be more transparent.
Ready to take your first step?
No spam, no obligation, no data hunting. We promise.